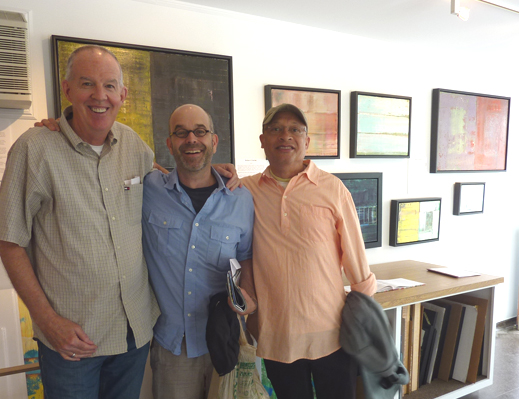 Un immense merci à Dennis Costin, directeur de la Ernden Fine Art Gallery à Provincetown, Cape Cod, pour la confiance qu'il m'a témoigné durant ces 9 dernières saisons estivales. D'autres projets attendent désormais Dennis qui a dirigé de main de maître sa galerie pendant plus d'une douzaine d'années. Il me reste de cette fructueuse collaboration des souvenirs d'une belle amitié, des rencontres enrichissantes avec des collectionneurs et des artistes, dont le chaleureux Ernie Bynum, et l'éclat si particulier de cette lumière sur la baie.
Merci Dennis, merci Ernie
I would like to express all my gratitude to Dennis Costin,director of the Ernden fine Art Gallery in Provincetown, Cape Cod, for the confidence he showed me during these last 9 summer seasons. He managed his gallery with class for over 12 years but other projects wait ahead of him from now on. I will keep from this fruitful collaboration memories of a strong friendship, many inspiring encounters with collectors and artists, among them the welcoming Ernie Bynum, and this so special light over the bay.
Thank you Dennis, thank you Ernie
Richard xx